Heating Patches.
BEST Detailed Explanation
When the head "cracks" or the muscles cause very strong pain, the pain is played out from a severe bruise or the neck is blown out, the lower back is suffering, we most often swallow the pill. But another more effective remedies have appeared, for example, heating patches. Let's see what they are and how they work.
The most popular patches are pain relievers, contraceptives, hormonal, anti-nicotine patches and special ones for those who want to lose weight.Some of them contain a medicinal substance, while others have herbal ingredients in their composition. Medical plasters, depending on the ingredients included in them, have various effects – from warming to antitoxic.
 The History of Heating Patches
The first medicines made in the form of a patch appeared in ancient Egypt about 3 thousand years ago. Patches (along with ointments and other soft forms) were mentioned by Hippocrates – he, by the way, noted that the patch mass should not be applied to ulcers, wounds and other open injuries, it is better to place it around the edges. Moreover, the plasters were intended specifically for intact skin.
Russian doctors have long been familiar with plasters. Already in the time of Ivan the Terrible, dozens of different plasters were made on the basis of lard, wax, resin, thin tissue and medicinal plants – from abscesses, ulcers, burns, lichen, aches …
How do Heating Patches work?
The mechanism of heating patches is the active substance that is applied to the base of a heating patch. Through the skin, the drug is absorbed into the bloodstream, and this alternative route of drug administration avoids many side effects.
So, for example, an injection or an anesthetic capsule affects the entire body, then the heating patch can have a point effect.
Heating patches are made on the basis of modern nanotechnologies, the achievements of traditional and folk medicine. 
 So, for back pain, doctors prescribe modern heating patches to patients: they are easy to use, you can have them close to you in any situation.
By acting on a sore spot, such a heating patch relaxes the muscles, relieving spasm and improving the flow of blood and oxygen, which contributes to the rapid removal or significant relief.
Two Types of Heating patches 
Containing pepper extract

Heat is generated by oxidation of alkaline earth metals
General information about heating patches: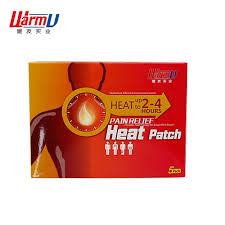 For external use only

Apply to pure cotton linen (if the perceived temperature seems too high).

Duration of action – from 10 hours to 2 days

After opening the package and removing the protective film from the patch, it heats up quickly, within a few minutes, to a temperature of 45 ° C (± 5 ° C).

In case of severe burning, the plaster is removed and the skin is lubricated with cream.

If traces of a sticky mass remain on the skin, they can be easily removed with soapy water or lotion.

Using during pregnancy and during breastfeeding is not prohibited.

Allergic reactions, burning sensation in the area of ​​application are possible.
The Heating patch cannot be used:
During sleep;

By People who are unable to remove the patch on their own, people with limited mobility and elderly patients with memory impairments and sensory disorders. In these cases, the heating patch can be applied exclusively under the supervision and in the presence of third parties, after consulting a doctor

On damaged, irritated skin, on open wounds, or after injection or fresh injuries and fractures.

While taking a shower.

If the package is damaged (torn casing).

If the patch has mechanical damage.
Like any other drug, heating patches also have contraindications. Consult with your doctor if you have 
Inflammation of the joints, diabetes, circulatory disorders

Post-thrombotic vascular inflammation

Pregnancy

Osteoporosis

Disorders of sensation

Skin diseases.
BurnMyFatFast.com main goal is to help you achieve your fitness goals! Be with us!