HOW to look thinner in one day or HOW to lose weight in 1 day?
Sometimes it takes a lot of time and efforts to look thinner and slim.You can start feeling broken when you don't get an ideal shape result in several days. While you are trying to achieve your goal try to know some rules for combining clothes and follow some fashion secrets what I will tell you  right now!
Let's get started and you will find out how to look thinner in one day!
1.Shoes 
To make your legs longer and your body slimmer, you should wear shoes that are similar to your skin color.
So beige, nude, white, or whichever color is closest to the color of your legs will elongate their appearance.
But If today you wear pants or tights, choose the heels of a similar color to what you're wearing.
Remember to choose a Classic pumps. At the same time, the heel should not be high, but quite comfortable for everyday life around 5-7 cm.
2.Figure Correcting Lingerie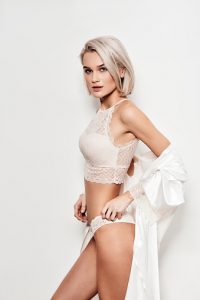 Invest in figure correcting lingerie! Yes, it sounds too simple but it works.
As we grow older, our body undergoes the process of aging.
This is quite natural.
Figure Correcting Lingerie for women helps the body gain support and prevents humpback, bosom flat, bosom prolapse, pail waist, flat hip, appetite prominent, turnip leg, bulky leg…
As you know, All ingenious is simple! 
3.Clothes with vertical stripes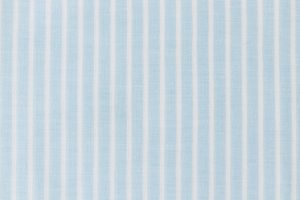 Many scientists say that vertical stripes in the clothes can elongate your figure and make you look taller. This is because vertical stripes actually play a trick on our eyes, making someone in vertical stripes look taller and thinner.
The main rule is to remember that thinner stripes are harder to focus on than thick stripes. Because of this, thinner stripes are more slimming than thick stripes!
4.Pick the right accessories
Draw attention away from your problematic areas with bright and colorful accessories that accentuate on not problematic zones .It can be your face, chest, thin wrists, waist. It can be a bright scarf or even extraordinary lipstick. 
5.Forget about glitter clothes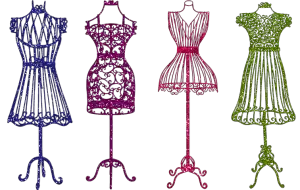 Choose clothes which are made of matte fabrics to hide flaws. This fabrics perfectly hide plump hips, overhanging belly. And remember to refuse outfits which are  made of shiny fabrics, as they emphasize every fold on the belly.
6.Remember about hairstyle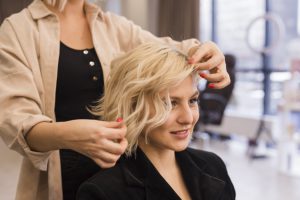 Voluminous hairstyles always make your look imbalanced.
Better give preference to medium length haircuts or shoulder-length bobs. Short haircuts look good when your neck is hidden under hair and hair near the ears is a bit lengthened.
7.Make up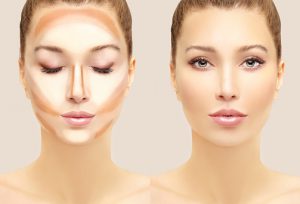 Correct contouring makes your face look thinner and it can even hide your double chin. You just need to learn how to use dark and light tones correctly.
Remember, The golden rule of contouring is to darken everything you want to hide, and to lighten everything you want to highlight.
8.Wide flared trousers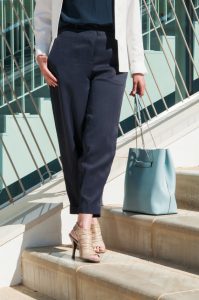 By the way, wide and flared trousers have come into fashion.
Wear them but there is only one condition: if you want to look slimmer, you must definitely choose models made of flowing fabric and wear such trousers with high-heeled shoes!
9.Buy your size clothes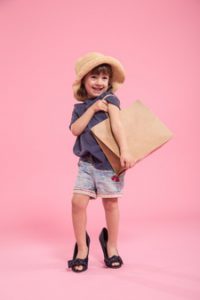 You will look slimmer if you choose clothes that define the outline of your shape.
Find the clothes which won't be very small on you and won't hang as a bag.
10. Workout!
Of course don't forget about healthy food and a regular workout what will make you look fabulous all the time.
Read more about clothes which make you thinner here.
BurnMyFatFast.com main goal is to help you achieve your fitness goals! Be with us!