Why Do Frenchwomen always slim?
They have world famous desserts, baguettes, their restaurants open at 7 pm, but in some incomprehensible way France remains among the countries with the largest proportion of slim people!
They allow themselves croissants with butter, cheese, they never refuse from bread and desserts …
How do French women manage to get everything from this life – and at the same time they do not gain weight?
But the secret is not what they eat, but HOW!
For a Frenchwoman, skipping breakfast, lunch or dinner is unthinkable, but they do not allow snacks between meals. You will never meet a Frenchwoman chewing something between lunch and dinner…
Eating habits of the French are brought up from childhood – not only at home, but also at school, where it is forbidden by law to sell carbonated sugary drinks and fast food like chips, crackers and popcorn. School canteens are often as good as regular restaurants: tablecloths, table setting, fresh flowers.
The students are used to dividing the plate into 4 parts. Two of them are fresh or cooked vegetables, one is "slow carbohydrates" (pasta or rice) and another is the main course. As a rule, it is protein: fish or meat.
Since children of different religions live in France with different dietary restrictions (some are not allowed pork, some are not allowed beef), there are vegetarian dishes on the school menus for all of them.
Another important point: the second additional portion will not be given, you don't even have to try. And when it's time for dinner, at home they put very little on the plate: just enough to satisfy hunger. Children get used to small amounts of food, their stomachs do not stretch, and in adulthood they do not need to overeat.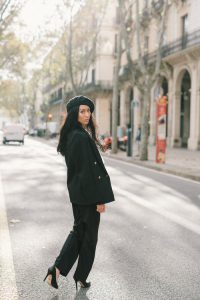 It turns out that the French eat everything – but in tiny, bird-like portions: just to tease the receptors and get a taste of the food. For this, of course, one piece is enough.
They like to say: "The higher the culture of food, different harmonious tastes, the less food you need to enjoy. Taste receptors are associated with your brain, and when a person enjoys food, the brain signals satiety faster"…
What do the French eat?
Parisians often and willingly eat outside at lunchtime and after work – in restaurants and bistros, and family meals are usually held on Sundays…
The French have not eaten pure onion soup for a long time and almost never used sauces: they are considered too fatty. Many Parisians have never eaten a rooster in wine (coq au vin): today roast beef is more often prepared for Sunday family dinners. They eat fresh radishes, tiny (the size of a 5-cent coin) pancakes with caviar and trendy cheese puffs – cheese balls for the aperitif..
 Frenchwomen also drink a lot of water. In a cafe, plain water is almost always given free of charge (yes, they pour it from the tap, but the quality is excellent, and there is no smell of chlore). Well, the government is trying to promote healthy values – for example, according to the law, any food advertisement here is accompanied by a reminder of the importance of a balanced diet – and a website address is given ("mange-buget", which means "eat-move"), where scientifically verified dietary advice is collected .
But despite all the delights of the world-famous French chefs, in everyday life people here eat very simply and in moderation (most often they limit themselves to one dish at a time – in the end they do not go over calories, and in this situation, even a baguette with ham does not do much harm). Although, of course, they do it with a great taste. For example, they are very fond of high-quality vegetables and herbs – and are often willing to pay more for food in small shops.
The main answer to the French paradox, of course, is that people here know how to separate festive food (luxurious, often sweet and high-calorie) and everyday food(moderate, simple, based on vegetables). As a result, the joy of life does not go anywhere, and health with a figure is in order!
Now you know all secrets of Frenchwomen!
BurnMyFatFast.com main goal is to help you achieve your fitness goals! Be with us!