How to Lose Weight While Skiing? 3 Pluses of Winter Sport
Winter is the period when the body accumulates excess weight to withstand frost and snowstorms. However, this time of the year provides many options for active pastime that help stop the accumulation of extra kg.
This Winter Sport is good for your health and keeps you in good shape. Not everyone thinks about how to lose weight more effectively while skiing.
Doctors remind that more calories are burned during race skiing than mountain skiing. For weight-loss alpine skiing, it is worth skiing in rough terrain – the harder the activity, the more calories are expended. Cold also plays a huge role: the body increases body temperature by adding extra calories. If they are not replenished immediately after skiing, some weight loss will occur.
Do you know how many calories skiing burns per hour with an average training intensity? Average values range from 350 to 800 kcal. If you do an hour on a bike, then an average of 200-500 kcal is spent. During water training, up to 500 kcal is lost. You don't need a calculator here to understand that a ski trip allows you to lose weight much faster. Moreover, energy consumption increases if you exclude a ride on a lift.
Benefits of Skiing
During classes, almost all muscle groups are worked out – buttocks, shoulders, chest, back, hips and legs. Even the most "lazy" ones are involved, who are difficult to load in the hall. Regular skiing makes the muscles elastic, relief. The overall endurance of the body increases, strength in the hands is added. 
Such training can replace a visit to the gym. The result will surprise your expectations.


Only you choose the load. Depending on the goal, you can change riding tactics and routes. Downhill, jogging or classic gliding allows you to lose weight at different intensities.

Training takes place on a ski slope, park or forest thicket, which saturates the lungs with oxygen. It enhances the metabolism, which helps to lose weight and strengthen the immune system.

The presence of excess weight over 10 kg is not a contraindication to the lesson.




Skiing calories are much more efficient. At the same time, there are no exhausting workouts, severe fatigue, and the release of the pleasure hormone into the blood gives a good mood and vigorous health.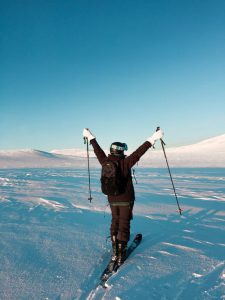 What to eat while skiing?
For those who want to keep fit, it is not enough to rely on only one sport: one should not forget about a carefully balanced diet. After skiing, many ski lovers go to a cafe, where one cup of hot cocoa can nullify all physical achievements. Skiers are advised to prioritize foods with complex carbohydrates such as cereals, pancakes, yogurt, nuts, seeds, apples and pears.
These are not only useful, but also provide an additional source of energy. Those who expose their bodies to regular physical (including skiing) stress should include in their diet an assortment of proteins (meat, fish, eggs), carbohydrates (potatoes, rice, vegetables) and fats (oil, avocados, nuts). Olympic snowboarder Jamie Nichols shared his daily diet on his training days. For breakfast – porridge and fresh fruit; as a snack – walnuts, almonds and again fruits; lunch is rice with chicken and salad; for an afternoon snack, the athlete consumes banana and chocolate milk, and, finally, for dinner – chicken fillet, sweet potatoes and broccoli.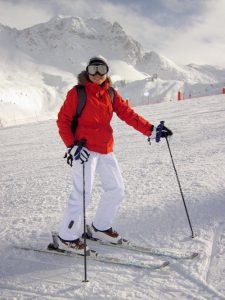 Both doctors and athletes emphasize: it is not necessary to completely abandon alcohol on a ski vacation. However, in no case should skating be "washed down immediately": you must first replenish the volume of fluid lost during active exercise. Alcohol does not possess this ability, on the contrary, it continues to dehydrate the body.
BurnMyFatFast.com main goal is to help you achieve your fitness goals! Be with us!