What Bike to Choose for a Person with Extra Weight?
The problems of obesity and extra weight, inactivity, weak immunity are acute in our society. By changing to a bike, you will not only save time by avoiding traffic jams, but also replace a sedentary lifestyle with sports.
Taking a ride to work in a breeze is a great workout option when it is difficult to find time for a daily visit to the fitness room.
How much weight the bike can withstand?
A Bicycle is a tool for an active lifestyle, transport of the future, with which traffic jams and a fuel crisis are not scary.
More and more people, regardless of age and physique, are changing from cars. The myth that an iron horse is inaccessible to large people is a delusion. In fact, the only question is the price.
According to the basic specifications, the maximum weight of a cyclist on a standard bike is no more than 100 kg. Bicycles for large people are more expensive.
How to choose bikes for a person with an Extra Weight?
So, if your weight does not exceed 100 kg, any quality bike will suit you. Naturally, you need to understand that jumping on curbs on a road bike is hardly worth it – the bike should be used for its intended purpose.
If your weight is over 100 kg, it is worth choosing a bike with additional conditions.
If your weight is more than 100 kg, do not even look at cheap bicycles:
For the sake of economy, they often use not the most optimal solutions from a technical point of view, and the quality of materials often leaves much to be desired. Also, do not chase very expensive Cross country models: in most cases, these will be bikes equipped with lightweight components for racing. And even the possible presence of a rear shock absorber in them will not save you.
In summary, we advise you to buy a bike from the mid-range or more expensive than the mid-range price range.
Mountain bikes should be preferred as a road bike is not suitable for heavy people.
The interest to Mountain Bikes in them is explained by the reduced risk of spinal injury. Due to the high load, even a slight shaking on an uneven road can result in protrusion of intervertebral discs or hernias. An ergonomic back position while riding a mountain bike reduces the likelihood of injury.
Bicycles for
Extra Weight Must Have the Following Characteristics:
What you should pay attention to. The lack of strength is primarily given by the wheels and frame. Components such as suspension forks and saddles also depend on the rider's weight.
1.Disc brakes. They are highly sensitive and can quickly stop a vehicle. Rim brakes are not up to the task. For safe braking, the following configuration would be ideal: front v-brake, rear disc brake.
2.Aluminum frames. Lightweight models with carbon frames will not withstand significant stress, and are much more expensive than aluminum ones. Extremely durable options for extreme sports: trail, enduro and freeride models.
3.Fork. Damping plays an important role in any transport, but with heavy riders the task is more difficult. Two-suspension units are not suitable for driving with a heavy load due to rapid wear due to improper operation. It is worth paying attention to the air-oil damping system.
4.Steering wheel. Steering plays an important role. For large people, an adult bicycle should be equipped with an aluminum handlebar under the standard 31.8 mm with a secure attachment on 4 bolts
5.Wheels. Wheels are most exposed to heavy loads. Tires and inner tubes must be at least 2.1 inches wide. Do not neglect regular inspections of the bike at the bike shop for timely tightening of the spokes and checking their tension with a strain gauge.
6.Saddle. Since this element largely determines the comfort and safety of riding, it is better to be puzzled about replacing it immediately after buying a bike. Optimal for overweight people are narrow saddles with stiff cushioning.
They effectively compress impacts, and your bottom point, and with it the spine, is less affected by every bump and bump. If for people of normal weight, seat cushioning is more of an aspect of comfort, then with a weight of 140+ it is already a question of a healthy back.
We strongly advise against installing wide, padded city bike saddles. In a semi-athletic cycling position, it is important that only the bumps of the ischial bones are placed on the seat.
From an anatomical point of view, this is the most optimal fit, and only moderately narrow saddles provide it. Since the pelvic bones are equally developed in all people, regardless of their fatness, the recommendations for choosing a saddle are standard for everyone.
If softness is your thing, consider getting padded cycling shorts, which do a lot to solve this problem.
So, bicycles for extra weight should have:
Durable wheels;

Air plug;

Strong frame;

Good steering gear.
If it is almost impossible to choose a bike with a rider weighing more than 150 kg, then a unit of the middle category can withstand a load of up to 150 kg. It only needs a thoughtful revision.
Possible breakdowns of an average vehicle:
Deformation of the wheel rims;

Bearing wear;

Breakage of the seat mount;

Deformation of the spokes.




To avoid these troubles, when buying, you need to take into account the increased pressure on the working units.
A few more recommendations
When exiting a curb and other ledges, it is better to stand up from the saddle in order to save the seat. The maximum tire pressure will be most conducive to avoiding punctures.
Recommendations
The seat is the heaviest load. A leather saddle with reinforced springs will help soften back blows and relieve pressure on the body.
For example, a Brooks brand seat. Ergonomic grips that prevent wrinkles will help ensure a comfortable ride. Special options for wheels, rims, hubs, metal pedals will also make life easier for an obese cyclist.
 What about Folding Bikes?
On the market you can find comfortable, at first glance, folding bikes of famous brands Dahon, Strida, Langtu, Stels. However, such transport, in addition to attractive compactness, has significant disadvantages.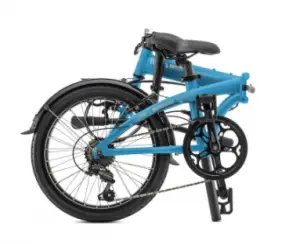 Folding bicycles are pretty simple in design. Their collapsible frames are not durable, the vertical fit gives an uneven load on metal structures and wheels. The standard sizes of bikes are designed for a potential rider weighing up to 100 kg and a height of up to 185 cm.
Even if these conditions are met, the reliability of the folding model in operating conditions of a person with extra weight is questionable.
Popular Models of Bikes for People with Extra Weight
1.Schwinn High Timber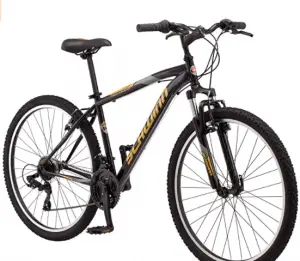 Benefits: Reasonable value for money; pneumatic fork, adjustable for any body weight.
This model is distinguished by an insignificant weak point: wheels (if it is used moderately, it can be replaced with lighter ones). Some owners note that the fork consumes its resource literally after 1-2 seasons
2.Kugel Bike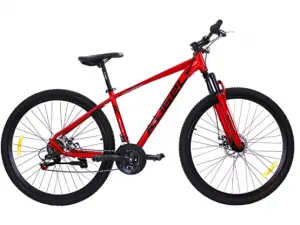 This bike is slightly more expensive than the previous model, but at the same time it has more solid technical characteristics.
The pneumatic fork is almost ideal among analogs. The model is well-equipped, so it makes sense to carry out the upgrade only focusing on personal preferences and body weight
3.

Mongoose Impasse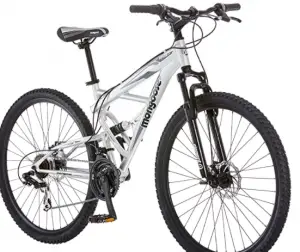 Decent model with good technical characteristics. Good hydraulic brakes, 27-speed cassette and quality wide tires are standard.
Basically there is nothing about this bike that needs to be changed. If you wish, of course, you can upgrade the plug, but this is rather an overkill (moreover, expensive).
The more active and aggressive you ride, the stronger your bike needs to be. With a lot of weight, you will have to ride your bike more carefully: overcome obstacles at a lower speed, when driving through irregularities, stand on the pedals to relieve the rear wheel, and so on
Support our research at Patreon and Get Unique Rewards Here =)
BurnMyFatFast.com main goal is to help you achieve your fitness goals! Be with us!