Cooking with Matcha Tea Powder.BEST 5 Recipes.
Matcha Tea a is a green tea powder from Japan. Matcha tea powder is used very often for cooking. Experienced chefs use it in the preparation of desserts, ice cream, cakes, souffles, etc. Delicious sauces for meat dishes and even cocktails are prepared by using green Matcha tea powder.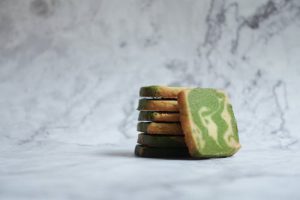 Green Matcha Powder for Cooking is made from the leaves of a later harvest. Thus, this type of tea has an unusual astringent taste, a deep green color at a low price. This is exactly what you need for cooking. You can buy it at our BurnMyFatFast Online Shop with free delivery!
How to use Matcha Tea Powder for cooking?
By adding bright Matcha Tea powder to your food, you enrich the dishes with a lot of nutrients. Greenish tint, slight bitterness and fresh aroma added originality to the dish. It can even be used as a natural dye. To get the desired effect of the powder, you need to add just a little bit.
For baking, for example, Matcha tea powder is soaked in hot water and added to the dough along with the liquid ingredients. When preparing green ice cream, tea is also soaked and added to the mixture to cream or milk after cooling. To brew a real "Matcha Latte" with green powdery tea, you need to dilute 2-4 grams of green powder with 60 ml of water and 150 ml of milk. Unusual taste is guaranteed!
Matcha tea powder cooking recipes?
1.Smoothie "Pina colada".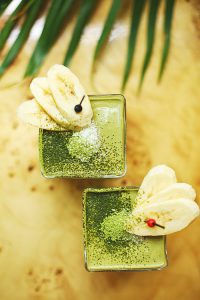 Ingredients:
2 tsp Matcha tea powder
2 chopped bananas
1 cup of frozen pineapple
1 cup low-fat coconut 
Preparation:
Place all the ingredients in a blender and beat until it smooth. Garnish smoothie with toppings on top.
2.Vegan Matcha Tea Powder sweets.
Ingredients:
2 tsp Matcha Tea Powder
100 gr almond flour
4 tbsp sugar free syrupe
30 gr chocolate
Preparation:
Grind the chocolate into coarse crumbs and set aside.
Stir the almond flour, tea and syrup in a deep bowl and start forming the candies with your hands. Almond flour will begin to secrete oil when shaping and no additional sugar or butter is required.
Add crushed chocolate and roll up the candy.
Keep them always refrigerated.
3.Raw Matcha Tea Ice Cream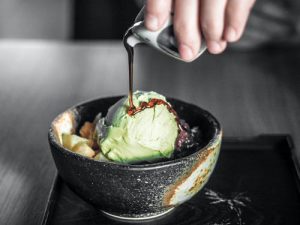 Ingredients:
 2 banana
1 tsp Matcha tea powder
Preparation:
Cut the bananas into pieces, put in a bag, put in the freezer overnight.
Load frozen bananas and tea mast into combine or powerful blender.
Grind until slightly melted ice cream. You can additionally put it in the freezer for several hours.
4.Vegan Matcha TeaPancake Cake
Ingredients:
Matcha tea Powder 2.5 tbsp
gluten-free mixture 100 gr
coconut milk 400 ml (2 cups)
coconut sugar 5 tbsp
mineral water 150 ml
liquid coconut oil 3 tbsp
soda, slaked with lemon juice 1/2 tbsp
2 cans of coconut milk (be sure to put milk in the refrigerator for 1-2 days in advance)
70 gr pre-soaked cashews 
 400 gr low-fat creamy cottage cheese
Preparation:
Mix the Matcha tea powder in a cup with a little bit of water. Make a paint base add all other ingredients and mix it well. Bake the pancakes on both sides with a little bit of oil. It will take about a minute and a half to bake one side.
To coat the layers, use the hard part of the coconut milk from the jar that looks like cream. Blend cashew nuts in a blender until creamy. You can add a little sugar or syrup for sweetness. If using cream cheese, mix it with a sweetener. You can garnish the cake with berries or pour over a syrup. You can sprinkle with a small amount of Matcha tea powder .
5.Matcha Latte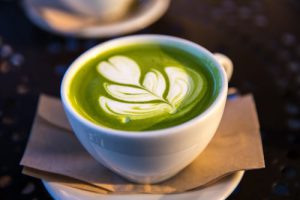 Ingredients:
1 tsp. of Matcha Tea Powder
70 ml. hot water (80 degrees)
250 ml. vegetable milk
1 tsp syrup
Preparation:
1 tsp of Matcha tea powder through a sieve, dilute in 70 ml. hot water and beat with a whisk.
Pour 250 ml hot frothed milk into a cup. Add syrup if desired.
BurnMyFatFast.com main goal is to help you achieve your fitness goals! Be with us!