Are you a newbie at fitness club?
TOP 5 Rules how to behave!
 Visiting any Fitness Club has its own requirements and rules. Some of the nuances should be known before the first visit of the fitness club.
1. Your Fitness Club Clothes
The manager will warn you about some basic things before visiting a fitness club when buying a membership, but something will remain unconfirmed.
You will most likely be warned about the obligatory presence of sport uniforms and shoes. A sport suit can be presented as simple trousers and a T-shirt, as well as a variety of options for shorts, breeches and tops.
Particular attention should be paid to the choice of sports shoes. As a rule, its presence is required for training at the gym and on treadmills, as well as for step aerobics and dancing. Shoes are not required for Pilates and yoga lessons. It is worth choosing the right sneakers for running, training or dancing in a specialized store, contact a consultant if necessary.
2.Towel
For exercising both in the gym and in the aerobic hall, you will need a small towel, this is not always agreed in advance, but its absence will show you disrespect for others.
At the fitness club the towel is mainly used to cover the parts of the equipment that come into contact with the exposed parts of your body. Most clubs provide a large towel for customers to use, although it is usually intended for showers or saunas.
3.Water
At Fitness Club You will need drinking water during exercising. If the club does not provide such a service, you should get water in advance. But you can usually buy water right at the fitness club, as well as a protein or energy shake that allows you to recuperate after training.
4.Trainer
At the first visit of the fitness club, it makes sense to sign up for a briefing with a trainer, even if you already know something about training equipment. This will help to avoid mistakes in the future, and at the same time to learn more about the rules of the club. For example, that after completing the approach, you need to remove the extra weight, and between the approaches you should not occupy the equipment. For safety at fitness club, do not hesitate to ask for help.
Your independent heroism is unlikely to be appreciated. In general, it is worth paying attention to the terms of the contract, as a rule, it states that the fitness club is not responsible for injuries received during training.
5.Time
In the evenings, fitness clubs have a maximum attendance, so it is better to book a place and equipment for exercising in the aerobic room in advance. If you are a little late for the lesson, you can carefully enter, while trying not to interfere with others. But nevertheless, you should not be systematically late, it distracts both the coach and the students.
What NOT to do when visiting a fitness club
Put on jewelry (rings, earrings, bracelets, chains). This is not the right place for that
Apply excess makeup. For training, waterproof mascara and powder are best suited, it is better to pin the hair. Also, do not overuse perfume.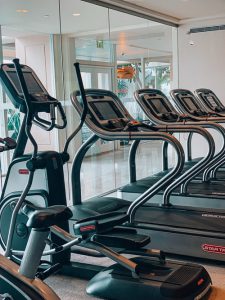 Use a summer swimsuit to visit the pool. If you want to swim in the pool, you will have to purchase a special suit or a special indoor swimsuit.
If you lose your documents, inform the administrators about it. In this case, nobody will be able to use your membership, and there is a chance that the documents will be returned. If you have any questions, do not hesitate to contact the trainer, sales manager, administrator. All these people are here precisely to resolve any issue and provide a comfort.
BurnMyFatFast.com main goal is to help you achieve your fitness goals! Be with us!